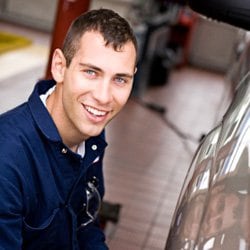 Find Your Perfect Parts and Accessories at Phil Waterford's Manteca Ford
Ford vehicles as a whole are intentionally engineered for longevity. The same can be said for their individual parts and accessories. Similarly, the masterful technicians at Phil Waterford's Manteca Ford are trained specifically to help you maintain the health of your Ford as well as nurse it back to health if obstacles get in your way.
The Pieces Beyond the Purchase
Whether you need a regular accessory like roof rails or are looking to order a niche component to complete your do-it-yourself project, our Parts Department has what you're looking for. Come to us if you need:
Authentic OEM Ford-specific equipment for your vehicle.
Crucial parts like batteries, alternators or brakes that you can't drive without.
Snow or all-season tires to make sure you are suited for the season, regardless of drivetrain or body type.
Exterior accessories like roof rails for the adventurous or step bars for the logical.
Greases and motor oils for the tune-up that your Ford has been thirsty for.
We have an entire inventory of equipment waiting to meet your Ford, and we can special order any piece that you need. Just give us a call at 888-236-0199 and we will get you situated. When you contact us, ask about our current parts specials to make sure you get the best deals out there. If you decide that you don't want to install on your own, reach out to our Service Center for help completing whatever it is that you need done.
Get your parts and accessories from Phil Waterford's Parts Department today and get your Ford up to the highest standard. Whether you do it yourself or enlist our specialty, we're here to help.