The 2021 Ford SUV Line-Up in Manteca CA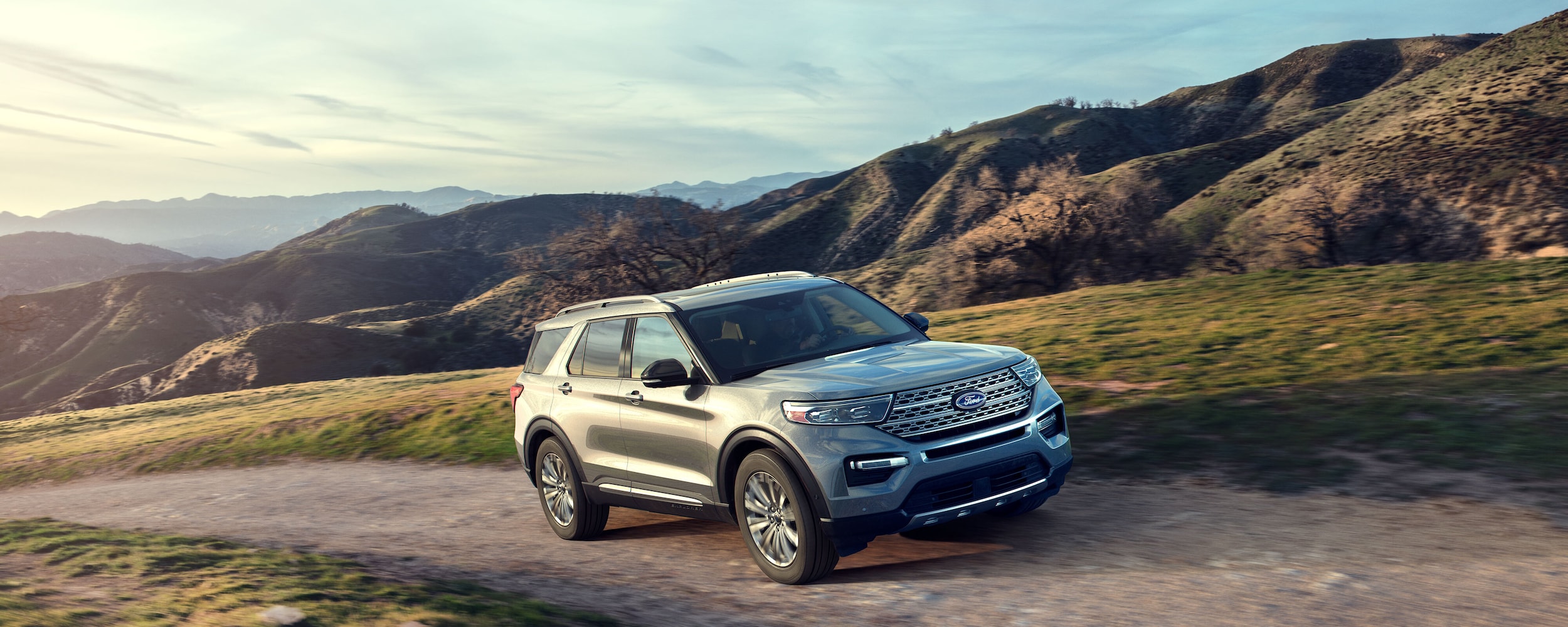 Enjoy a Wide Selection of New 2021 Ford SUVs in Manteca
As more drivers have turned to new SUVs, we've been able to help more drivers find the right fit among our new 2021 Ford SUV inventory. The Ford SUV lineup continues to grow with more options and styles so that you have more chances to find the perfect fit with no compromises, and we continue to be the Manteca Ford dealer that drivers trust.
There are eight different new Ford SUVs for sale at our dealership, and to help you narrow down your search, we've provided overviews of our new SUVs. Keep reading for the details you'll want to know and the questions that we receive most frequently about the Ford SUV inventory!
Ford EcoSport
We'll start with the smallest Ford SUV and work our way up. The   offers a city-friendly exterior with plenty of cabin space, and its engines match efficiency and power just as well. This versatility is apparent in every new Ford EcoSport, as is value. This Ford SUV is affordable and still has features ranging from Apple CarPlay to driver-assist measures.
Ford Escape
The Ford Escape is a step up in size, performance, and available features. The new Ford Escape is still a great value, and it has features such as a head-up display to show how modern an SUV it is. Plus, the new Ford Escape Hybrid provides drivers impressive capability but more long-term value!
Ford Bronco Sport
The Ford Bronco is back, and it's bringing with it the Ford Bronco Sport. This model is more compact and more affordable, and it still is ready for any off-road journey. The new Ford Bronco Sport is perfect for camping trips, but its utility means that it's still great if you plan to use it every day.
Ford Bronco
The Ford Bronco is an icon, and the new model has the rugged styling, powerful engines, and smart features to make every drive a fun adventure. You can head off-road with ease, but the Ford Bronco is another example of a new SUV that feels just as fun to drive during your commute or trips to the grocery store.
Ford Edge
Similar in size to the Bronco, the new Ford Edge offers a performance focus. You'll find a 250-horsepower engine standard, but there is a 335-horsepower engine available. The Ford Edge is still a functional SUV, which it shows with a ton of cabin space, towing capability, and a variety of standard safety features and technologies for your convenience!
Ford Mustang Mach-E
One of the most exciting additions to our lineup, the new Ford Mustang Mach-E is an all-electric performance SUV, and the first Mustang SUV for sale. It has a range approaching 250 miles on one charge and has over 400 horsepower in its most powerful engine. Combine that with innovative safety measures and features that let you get the most out of your drive, and it becomes clear why there is so much buzz about the new Ford Mustang Mach-E.
Ford Explorer
Now we come to our three-row Ford SUVs for sale, and we start with the Ford Explorer. The new Ford Explorer offers impressive capability with towing up to 5,600 pounds, a hybrid engine, standard driver-assist technologies, and seating for seven. It's the perfect family SUV for many in the area, and we have a wide range of options for it available to you!
New Ford Expedition
The largest and most capable of our new Ford SUVs is the Ford Expedition. This three-row model seats up to eight, can tow over 8,000 pounds, and has one of the most comfortable driving experiences out there. It comes standard with safety features that parents will love and offers entertainment systems for the kids in the back.
Reach Out to Find the Right New Ford SUV for Sale Near Tracy
That's a lot of info to digest, but we hope that it helped you figure out which of these eight Ford SUVs suits you best. If you need to compare these Ford SUVs, learn about our new Ford leases or financing, or get answers to any remaining questions, just give us a call, visit, or send us an email today!