Confide in the Team of Professional Mechanics at Phil Waterford's Manteca Ford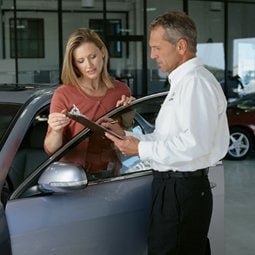 Have you noticed any sudden noises or issues with your vehicle when you cruise through Manteca? If, for whatever reason, you find yourself in need of a solution for any number of mechanical, technical or maintenance issues that have unexpectedly begun plaguing your trusted ride, the Service Center at Phil Waterford's Manteca Ford is the ideal destination. Each of our mechanics have been professionally trained and offer years of experience that can't be matched by the average local mechanic. From oil changes and part replacements to routine inspections and damage repair, there is no shortage of services to take advantage of from our dealership.
Our Certified Service Exceeds the Expectations Set by Third-Party Mechanics
Regardless if you're from Stockton, Modesto or Tracy, there's no denying the long-term benefit that comes with an experience at our Service Center. Not only will we work to guarantee that your vehicle rides just as smooth as it did when you first brought it home, but we take pride in providing you savings throughout the process. Thanks to our rotating list of service specials, finding your next great deal can come at a time when it may be the most important for our customers. Plus, with our supply of original manufacturer parts, you can rest easy knowing that your Ford warranty won't be voided by a third-part replacement.
There are more reasons than we have time to name, which could bring you into our dealership for reliable service. If you're interested in seeing what our team of experts can achieve for your vehicle, make your way to our showroom at 555 North Main Street today!
Let Phil Waterford's Manteca Ford Help You Maintain Your Vehicle
At Phil Waterford's Manteca Ford, one of our goals is to get you in a Ford that makes your life simpler and more enjoyable, but our aspirations don't stop there. We also want to help you maintain the health and wellbeing of your Ford long after it drives off the lot. That's where our Service Center comes into play. The expertise of our technicians and the eagerness of our staff to get you driving on the road as soon as possible is what fully satisfies our customers.
Original Equipment and Specialized Technicians
When we replace and install parts and accessories in your beloved Ford vehicle, you can be relieved to know that we only use official OEM equipment. This ensures that the pieces that make up your Ford are of the highest quality, and you won't have to worry about anything going awry from the inside to the exterior. Furthermore, our technicians are trained especially for Fords so that they know everything there is to know about the nooks and crannies of your vehicle. If you decide that you want to do it yourself, our Parts and Accessories Center can provide you with the means to get the job done.
We always offer new service specials to make your experience as affordable as possible. We offer deals on tires, brake pads and more, and even honor manufacturer incentives, so keep an eye out on our coupons to assure you get the discounts you deserve.
If you're ready to get your Ford serviced, visit Phil Waterford's Manteca Ford today. Whether your needs are urgent or you're coming in for a regular servicing, our goal is to get you back to driving as soon as possible. Reach out to our service department at 877-438-5901 and get scheduled today.
Your privacy is important to us.
Our Dealership takes your privacy seriously and does not rent or sell your personal information to third parties without your consent. Read our privacy policy.